"Was Just Amazing. It Just Came Out Better Than Expected"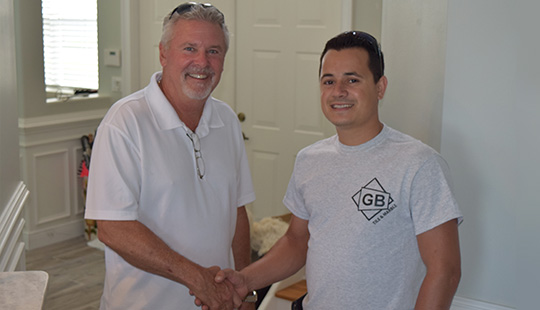 "So Gesiel came highly recommended from a very close friend and co-worker of my wife's. But it's always scary when you're venturing into a big job like this. So we had, as he said, over 1200 square feet of tile that we had to demo, which was amazing because it only took one day to demo the tile. And my wife and I were both very concerned about the dust that was going to infiltrate the house. And I will tell you, it was at a minimum. They did a great job of masking off everything that they could. And while it was noisy, and there was some dust, it did not infiltrate the entire house, so we were very happy about that. In addition to the 1200 square feet of tile, they also renovated our bathroom, full bathroom, shower, which I'm sure you'll see in a minute, was just amazing. It just came out better than expected."

Mr. Ron About Remove The Tile And Put Wood Look Plank In
"I will tell you, from the consumer's perspective, it was very reasonable. And if it was too expensive, obviously, we would have reconsidered. We did spend a lot of money, I think, on the tile itself, and I'm glad that we did because it certainly is an awesome looking product. I know it's going to hold up for many, many years. But as far as the cost goes, no, I received many, many estimates, as most people will do, but the fact that Gesiel was very competitive, as well as highly recommended from again, this friend and co-worker of my wife's. We were extremely happy with the price and like I say, I don't think we would want to do it any other way at this point."
Mr. Ron About The Finished Result
"That's the look we wanted because really, there were multiple different floors in here. The living room had a dark plank tile, and this was the original builder's tile, the 16 x 16. So you had a lot of different looks when you first walked in. And now you walk in, and you see this light, beautiful, wood plank floor. It just looks amazing.
We're so happy with the work. They stuck right to the timeline. The demo, he told me it would take one day, the demo took one day. Everything was clean. They came back the next day and started the tile, and we were all done within what, five days, or six days? And we threw a little curve. Originally we were going to be done in five days, but we through a little curve and decided to do the bathroom. So that was not on the original scope of work. But it was certainly worth it. So it was a week, but it was great, and never had any second thoughts about giving Gesiel and his team, the crew, access to the house. They were most of the time, we were not home. Extremely trustworthy, very careful with the home and cleaning up after themselves. There's no mess. I didn't have any of that to deal with. So it really couldn't have been any better of an experience."
Mr. Ron
Lake Worth, FL